Crochet tools and supplies for beginners: Yarn
This is the first post in a series about the crochet tools and supplies I recommend for beginners. Why this series? Well, I've been teaching a lot of new crocheters lately and I've received a number of requests from clients to share some general information that would be useful reference material for folks in the beginner stages of crochet.
There will be a video(s) to go along with this series and I will link to it/them when they are posted on my YouTube channel.
If you are looking to learn to crochet then I teach workshops and offer private lessons at Handknit Yarn Studio here in Hamilton. You can also book time with me directly, right here on my website.
In this first post let's discuss yarn. Going into a yarn store can be off-putting for a beginner - So many weights. So many fibres. So many colours! Here's my advice for choosing the best yarn for your first project(s).
Colour
My general rule of thumb for beginners is to follow the goldilocks principle.
As tempting as it may be to try variegated yarn or yarn with short and long colour changes, I'm going to encourage you to choose a plain yarn that's not too light and not too dark.
It will be much easier to see the anatomy of your stitches and the details in your fabric. If you're struggling, it also helps your crochet instructor diagnose what is happening to your fabric and how to help you fix it.
Fibre
My recommendation is for learners to use superwash wool, for the following reasons:
Wool has an elasticity that makes it much easier to work with. This is especially valuable when people are learning to crochet because finding the right tension can be a challenge.
Superwash wool is soft and comfortable to hold. It also tends to avoid splitting and fuzzing.
Beginners pull their work apart a lot and superwash wool is very forgiving when it comes to "frogging".
My favourite wool to use for most projects is Cascade Yarns Superwash Merino 220. Cascade Superwash 220 comes a close second.
Acrylic
Many people recommend using synthetics for beginners because it's the cheapest yarn to buy. I understand the impulse - you don't want to spend too much money on something you ultimately may not enjoy doing. In my view however this is false economy because high quality yarn makes learning to crochet so much easier!
Here's my key points to consider:
Acrylic has the same elastic property as wool which, in my opinion, makes it a better option for beginners than plant fibres but wool is still the best option to go for. So, if you're vegan and don't want to use animal fibre, go with acrylic.
I find acrylic less comfortable to work with than wool. It's stiffer and makes a squeaking sound that is like nails on a chalkboard to me! I crochet with synthetics because sometimes they are the best option for the project I'm working on. But part of the joy of crocheting is how relaxing and meditative it is and so sensory issues matter.
Plant fibres
I often hear cotton recommended for amigurumi (the characters I design and make from yarn). Cotton does give a project nice stitch definition and soft fabric, but the lack of elasticity in plant fibres makes them harder to work with for beginners, especially if trying to make the dense fabric you need for amigurumi.
It also doesn't have the loft quality that wool has which causes the yarn to relax and expand to fill up potential holes between stitches. This is great news if you're making something light and lacy like a shawl but those types of projects are generally not ones that beginners jump into.
Pictured above is a hank of SkeinStudy, hand-dyed yarn and a skein of Cascade 220 Superwash Merino. The Cascade yarn is my go-to yarn and a perfect (light worsted) weight for beginners. The SkeinStudy yarn is beautiful, soft and perfect for projects that need fingering weight yarn - just not the right yarn (yet!) for a beginner.
Weight
Again, following the goldilocks principle, I recommend beginners choose yarn that's not too thin and not too bulky. Worsted or light worsted weight yarn is ideal for folks learning and building their crochet skills. 
Where to buy
I highly recommend beginners start with their local yarn store (LYS). Here's why:
you're supporting a local small business
the folks who work at your LYS know a lot about yarn. They may even spin or dye their own! They are an invaluable resource in helping you select the right yarn for a project.
Your LYS tends to also support other local small businesses. They stock both high quality, well known brands and Canadian, independent yarn suppliers.
My go-to LYS is Handknit Yarn Studio. (disclosure, I teach crochet workshops there) If you're in the Hamilton area I highly recommend their bricks and mortar store but if you're not local the good news is that their online store is expanding all the time. And talking about supporting other local small businesses, check out their Summer Trunk shows where they are hosting local yarnies and makers.
Sometimes I can't find the yarn I'm looking for at my LYS. For example, if I want to make a project using chunky blanket yarn. Michael's Stores is an option if I want one of the large brands they stock but as I don't drive I love being able to shop online and have my yarn delivered.
The option I usually turn to at this point is UK based company Lovecrafts. If you're ordering from Canada you can shop their store in Canadian dollars but the order will be shipped from the U.S.
I usually only buy from Lovecrafts when I've exhausted my local options or when they have a really good sale or deals on clearance items.
You can get free shipping if you spend C$100 or more
Because your order is an import from the U.S. you may end up paying customs duties.
If you want to try Lovecrafts, then if you click on the image below I will receive a small commission at no extra cost to you.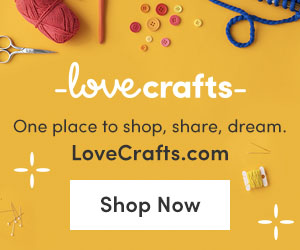 So those are my thoughts on choosing yarn for your first crochet projects. Will you be following this series? What other things would you like me to cover?

---