Be a child's favourite person
Small But Kinda Mighty is the place for hand crafted, high quality toys, intentionally designed to support and encourage inclusive, play-based learning.
Ready to ship - Handmade soft toys
SBKM Canadian made toys are 100% handmade by me in Hamilton, Ontario. Each character I design comes with their own handmade story booklet. A portion of the proceeds of each sale will be donated to the Halton Learning Foundation.
Explore Ready to Ship
Read more about play based learning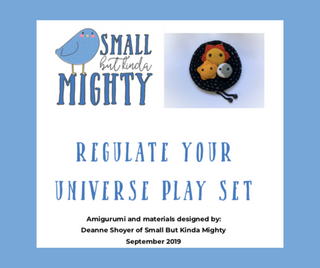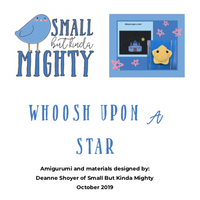 Brand new
Educational Digital Downloads
Available for immediate download: packages of stories and resources to help educators, parents, homeschoolers and child care providers.
Shop digital downloads
Shop All
For the Love of Play and More
Testimonials
[Grumpy Moon package] should be standard use for parents, homeschoolers, elementary and special ed. I can't mean this more! Click here for full review.

Michele Walker, MS Applied Educational Psychology & Founder, Bee Visual
As an educator I can say that these lovely hand crafted animals and other adorable creations are perfect for my students. The quality of each one made is done with love and care which is shown in the work. I've enjoyed purchasing and playing with everyone Ive got in my collection so far. I'll be looking forward to making my collection bigger as well. I would highly recommend these stories and lovely stuffy guys to anyone with children, who works with children or wants a great gift for someone with children that need help with social and emotional challenges. Thank you for all of my amazing animals and stories.

Shannon Henderson
I have the playset shown in the photo above and I love it!! My kids love the bees and I love the little lavender plant she created. It came with two great stories I have read to my kids many times about the insects in the set, and they love it!! Deanne is extremely talented and she found a way to make learning fun for my littles. Highly recommend!

Amanda Lee
SMALL but kinda MIGHTY is an incredible small business!!!

I just received my beautiful, custom order, 100% merino wool hot chocolate.

Along with a custom booklet which is a condensed version of the 3000 year history of CHOCOLATE. What's not to love about this? ❤️

My daughter and a just had a stim and story time to end our day. 💕

I am openly autistic and this is my new favourite stim toy. ☕️💕

Ingrid Bergman
Last spring (2019), I decided to purchase some leprechauns and bunnies for my grand daughter, Alessia. She was 8 at the time. To this day, she STILL talks about them. Absolutely loves them. Brought them to school to share for Show and Tell time in class. Beautifully made.... :-) I plan on purchasing other items for Christmas gifts for my friend's grandson, now 2 years old. Love them !!!

Nikki Taddeo
The playsets are so adorable and beautiful. I love the idea of using handmade toys along with social stories to encourage play-based learning.

Mindy Douglas
You can tell how much love and attention was put into our purchase, I would definitely buy again from Small But Kinda Mighty.

Dr Philippe Chouinard
Deanne taught a 'beginner crochet' workshop that I attended on the anniversary of my Mom's passing. Crocheting was something I learned from my Mom when I was much younger, and I thought I had forgotten how to do it. Deanne's calm, encouraging manner (and excellent instruction) helped me to rediscover this craft, and to feel connected to my Mom again.

Heather Graham
This class was one of the most helpful I have ever taken – you learn so much! I enjoyed it thoroughly! I always thought I couldn't crochet, just couldn't seem to get my head around it – but guess what - I did!!!

Deanne is such a wonderful Instructor!! Her classes are helpful, friendly, and relaxed. I had tried to take up crocheting before, but just didn't connect with the Instructor's way of teaching. So thankful I gave it a second shot!

Linda Pati